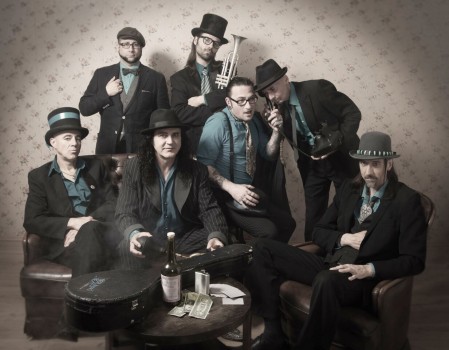 New album: "Fräulein könn' Sie linksrum tanzen"
Release: 26th August 2016
.
Roaring Twenties & Sound of the Streets in Berlin: That's Berlinski Beat.
.
The Streets of Berlin are international; Berlinski Beat renew the Roaring Twenties alike with an international flair: Berlin classics with danceable rhythms, Balkan Beats and Mariachi music. No matter if you go out clubbing or just take a walk through the Streets of Berlin: Berlinski Beat let you experience the feeling of bygone Twenties with this new record.
On the one hand they change well-known classics of Berlin, called 'Gassenhauer', in modern Partysongs, on the other hand you will find actual subjects in spirit of artists and philosophers of the Old Berlin with an impressive charme in music. Like this BerlinskiBeat is bridging the gap of Berlin Dance-music in past and present: decadénce and nowadays at one stroke.
...
Certainly the guys cannot wait until they will play the new songs live. So they will be on tour in September. All tourdates and further informations you will find here.
Posted on 26. May 2016
Write a Comment
---